Night Owl Crafting does these cute little questionnaires and now that I have a blog I can finally participate!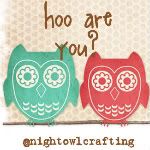 1. List 3 words that remind you of fall
.
Pumpkins, leaves, cold weather
2.
Do you wear jewelry often?
Wedding rings of course, and usually a necklace. I rarely wear earring because I always lose them!
3. Do you like your toe nails painted or natural?
My toe nails have never gone longer than 10 minutes being un-painted in the past 10 years.
4.

Do you ever wear a hat

?
I was actually asked this question today at work. Nope! Never.